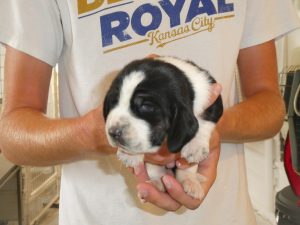 #4 MALE/SOLD
$800 We will be taking non-refundable Deposits on Saturday 7/18/20 MORNING @ 6am CENTRAL TIME. You will NEED to CALL our landline 620-475-3725. The deposit is half of the purchase price. We accept Paypal, Venmo and can take a credit Card if needed over the phone with you. Pups ears are still growing. Pups were BORN on 7/2/20.
They will be able to leave once they are 8 weeks old or so. SHOTS/wormed and Micro-chipped.
The other litter of Bassets are being BORN today 7/17/20. We will be asking $900 each pet price for them and will take non-refundable deposit on them once they are 2 to 3 weeks of age. So please be Patient!
We accept Paypal, Venmo or can do a credit card for the NON-refundable deposits.