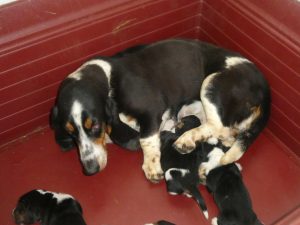 The photo is the Mother of the 3 male pups. She is NOT for SALE. The pups are on the ground BORN 7/2/20 and will be 2 weeks old soon. SO we will be taking NON-refundable Deposits on 7/18/20 that morning.  WE DO NOT DO LISTS! They will be AKC registered and will be up to date on shots/wormings for their age. They will be Micro-chipped and SUPER sweet! We will be asking $800 each Pet price. The pups are TRI colored and we have 3 MALES . A non-refundable DEPOSIT is required.  You WILL NEED TO CALL US at 620-475-3725 Landline To make sure you get a pup.
The new litter was BORN on 7/17/2020 We will take non-refundable Deposits on then in 2 weeks and will be asking $900 each pet price.
ALL deposits are NON-Refundable. We accept Paypal, Venmo and can do a credit card for the non-refundable Deposits. If you are out of State and don't want to make the drive. We do use an animal ground Transporter and we make all the arrangements for you. We do have to pay them at this end before they pick the puppy up. The puppy will also need a health Certificate and WELLNESS check up to make sure he/she is fit to travel. Also a Kennel to travel in as well so this is also included in the shipping price.
Phone CALLS are WELCOME!